I'm starting off the New Year by wrapping up my Miss America 2019 recap series!  It's crazy to think four months ago, preliminary competition began in Atlantic City, New Jersey.
What were my thoughts and feelings going into competition at Miss America 2019?  I was nervous for preliminary competition to begin on Wednesday, September 5.  At the same time, I was beyond excited to begin with On-Stage Interview (a phase, I've always known is a strong suit of mine), but the anxiousness still set in.  I remember feeling amazing when I walked out of my private ten minute interview with the preliminary judging panel the day before, knowing I had to take that positive energy and channel it as I moved forward into competition.  "I turned on CNN, showered off and gathered up my things; all the things I needed for rehearsals and prelims that night as I knew we were stuck at Boardwalk Hall all day."  I remember texting a former director of mine and another dear friend, Courtney Pelot, Miss Wisconsin 2016 as we brainstormed possible subjects for questions.  "I kept thinking back to my private interview — potential questions about Donald Trump were not off the table, congressional hearings with Brett Kavanaugh, my social impact initiative, etc. — the limits were endless."  
"As soon as the show began, time flew by (as it always does).  After Parade of States, I hurried back to change for On-Stage Interview.  Luckily, the first group of talent for the night was ahead of me so I had a little bit of time to gather my thoughts.  As I stood backstage listening to the questions before me (I was number 11) I couldn't help but notice how scattered they were.  From, '"What would want your legacy to be as Miss America,"' to kneeling for the National Anthem to one's favorite place to travel and then, me…"
I strutted out with one of my favorite Miss America's, Savvy Shields, in sight across stage as I smiled at the audience and took a deep breath.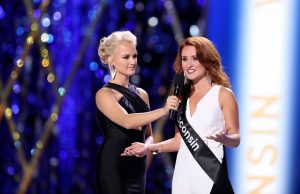 As I stood next to Savvy she looked back at me and said, "Tianna, your question comes from Courtney Blackwell Burton."  …  "Tianna, Higher education institutions have been under scrutiny about discrimination. How would you advise universities to battle this fair admissions policies with encouraging diversity on college campuses?" …"Woah! Wait, what?! Where did that question come from?" Is what was actually going through my mind, but my outward expression exuded a calm smile as I tried to push those thoughts away, I took a breath and trusted my gut.  "I think it's important to realize that everyone should have the right to a higher education, it does need to be lower it's quite expensive that's why all these candidates and myself are involved with this incredible program. And they need to know that they can welcome anyone onto their campus, they should be able to become the 'BOSS' of their future like my social initiative entails. Thank you so much."  I remember smiling, waving, and turning to walk off stage extremely frustrated with my question and answer.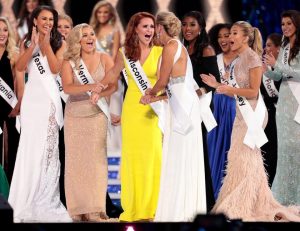 As I walked through the curtain, Dana Marie, Miss Washington was there to great me and tell me how I crushed it!  However, my instinct to overthink things overpowered that compliment as I processed my answer and how I could've answered it differently.
About an hour (or so) later all fifty-one of us were on stage as we listened to Cara say, "The On-Stage Interview Preliminary Winner is from…Wisconsin!"  Peep the photo to the left to catch my reaction. Holding onto Miss Vermont and Miss Washington's hands, my jaw instinctively dropped as I turned to Dana Marie who was yelling, "I told you!"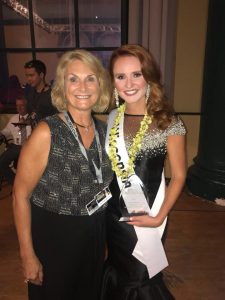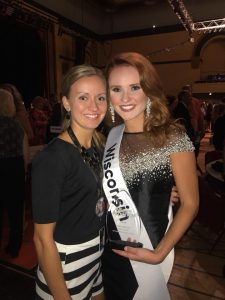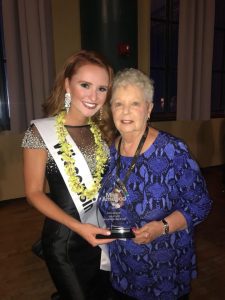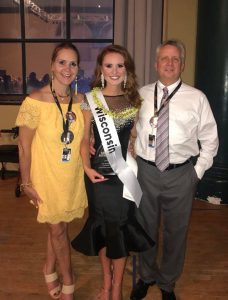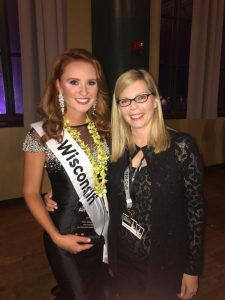 Shock, joy, and pride are three accurate ways to sum up my feelings at that very moment when I heard my name called, but it's truly difficult to express in words.  I was riding an adrenaline rush as I waived to my family and friends who were jumping up and down cheering in their section.  Taylor Tyson, Miss Florida, who won the preliminary talent award Wednesday night, and I were asked to change into our visitation dresses as we were swept away for media interviews.  And a little while later, I walked into the visitation room which just so happens to be the space we rehearsed in to great my family.  They were cheering, holding up "WISCONSIN" signs and ready to greet me with so much love!  I returned back to the hotel with a full heart, eager to see what the second day of preliminary competition would bring.
Thursday, September 6:
Our "call time" to leave the hotel was two hours later than the days prior, so I set a later alarm in order to give myself a chance to "sleep in" a bit and rest up.  For the first time since our arrival, there was no catered breakfast, but that didn't matter because the tables in the dressing room were COVERED with cereal, granola bars, fruit, chocolate, veggie straws, pita chips, hummus, and coffee among other things (but most importantly, coffee).
Initially, my group, Mu were all supposed to have talent rehearsal on Friday, which made sense because we performed talent on Friday evening. However, as the cookie crumbles, that rehearsal schedule was moved to today, Thursday.  "I was extremely nervous regarding the condition of the stage floor. When Madeline, Miss West Virginia went out for practice she said it was sticky," I wrote in my journey, as I proceeded to put my dance shoe in baby powder backstage.  When I went out on stage, I was succumb to the grandness of Boardwalk Hall.  It was the largest stage I had ever danced on and I was rather overwhelmed with the two toned color on the floor, but I knew I had a short window of time to practice on that floor and I needed to focus.  The first run through was slippery, I adjusted to the stage and marked my placement.  I was able to walk backstage afterward and connect with my sister for feedback as she had been sitting in the audience watching my performance.  And let me tell you, my second run-through felt amazing!  I remember looking up and seeing Gretchen Carlson sitting at the judges table next to some of our producers and having this feeling of gratitude.
Just a few hours later, I graced the Miss America stage in my favorite gown to date (pictured right), a one of a kind Mac Duggal, turquoise jersey gown.  I felt like a true queen as I walked down the red carpet with my train trailing behind as it drew out along the carpet on the stage — a moment that will forever be engrained in my mind.
Friday, September 7:
The phase of competition I have always gotten the most worked up over had arrived – talent.  It's ironic considering it's the phase of competition that I have the most formal training for, but it gets me every time.  I was marking through my dance back stage with the music playing on my phone, pacing and stretching out as I shook out my sweaty hands.  Before I knew it, I was standing behind the large LED lit background awaiting my cue from the stage personnel to 'take my place.'  I gracefully ran out to my starting mark, my heart beating out of my chest, then the music began.
It's strange.  Typically when I perform, I consciously stop thinking.  Instead of processing my movement, my muscle memory takes over and my subconscious mind embraces my time on stage through my expressions and choreography.  This moment, however, was different.  I made it through my initial double turn (and actually did a triple), split drop to the floor, calypso to the right of stage and when I got to my balancés I had a moment where I scanned the judges and consciously thought to myself, "Holy buckets, I'm performing on the Miss America stage."  Just as quickly as that realization came to the forefront of my mind, I rapidly told myself, focus, you're still dancing, focus!

Want to book Miss Wisconsin for an upcoming event, judging opportunity, school engagement, parade, or corporate function?  Head to the Miss Wisconsin Appearances tab on our website and submit a contract request or send an email to booking@misswisconsin.org for more information!  We look forward to hearing from you!