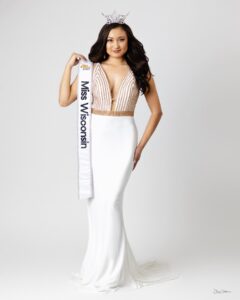 Lila Szyryj, a native of Madison, Wisconsin, is excited to serve Wisconsin this year as Miss Wisconsin 2023. Lila enjoys sharing her love of music, making traditional Chinese meals, and being a broadcast journalist. 
Growing up, Lila has trained as a classical dancer for 18 years, but her love for piano outshines.  At Miss Wisconsin in June, Lila earned a preliminary talent award for her classical piano rendition of "Revolutionary Etude."  In addition to her musical talents, Lila enjoys hosting a cooking workshop where she shares traditional Chinese dishes and speaks on pertinent news topics.
Lila's Community Service Initiative is titled Breaking Down Breaking News, educating others on the importance of finding credible news sources and debugging misinformation in the media. Lila currently hosts webinars and makes school appearances to help educate on the importance of trustworthy news to the young and the old. 
Since graduating from University of Wisconsin – Madison with a degree in Journalism and Mass Communication, Lila currently works as a broadcast journalist for NBC15, with the aspiration of becoming an anchor or national correspondent for a large media corporation.